Posted on
By Queen of Angels Catholic Store
Posted in 2021, Bishop Felipe Estévez, Bishop Thanh Nguyen, Diocese of St. Augustine, Fr. Briggs Hurley, Fr. Sebastian George, Fr. Dan Cody, Fr. Michael Larkin, Fr. Tom Cody, Fr. William Kelly, Funerals, Msgr. Mike Morgan, St Joseph's Catholic Church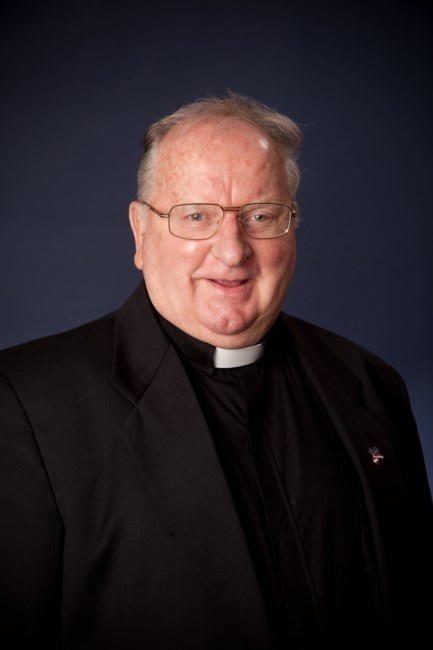 Fr. Dan Cody
September 17, 1937 - September 1, 2021
Fr. Daniel Cody was born on September 17, 1937, in Glenmore, County Kilkenny, Ireland. He was the sixth of nine children born to Daniel and Bridget Cody. His older siblings are Dick, Peggy, Martin, Anna †, and Walter; the younger are Michael, Breda, and Tom. His father was a farmer, a good one, and his dairy cows and vegetable crops consistently provided sufficient food for the entire family. His father and mother had a wonderful marriage and were always absolutely kind to one another. They treated their children with the same kindness and treated them equally, showing no favoritism, not even to the two who became priests – Dan and Tom. Father Dan knows his decision to become a priest was rooted in his marvelous home life, and though his elementary schooling with the Irish Christian Brothers at St. James School contributed to his decision, a significant influence was his uncle, on his mother's side, who was the pastor of his parish in New Castle in northern England. Father Daniel Cody, was ordained in June 1962, and he decided to travel overseas to Florida. Among his first assignments were
Resurrection Catholic Church, St. Ambrose Catholic Church,
Blessed Trinity Catholic Church, as well as Bishop Kenny High
School where he taught scripture. In 1968, he was assigned to
Most Holy Redeemer Parish in Jacksonville, where he served for
14 years before Bishop John Snyder appointed him pastor of St.
Joseph Parish in Mandarin in 1982. He served the growing parish
community for 31 years until his retirement in August 2013.
Father Dan was a leader in the Mandarin community. He was
tender-hearted, warm, and loving but firm. He kept an open-door
policy, and his parishioners felt comfortable stopping by for
impromptu meetings. He was never afraid to express his opinion.
He was open to innovative ideas, concepts, and proposals.
Ultimately parishioners knew that "Father knew best," and he knew exactly what the parish
needed. Father Dan's faith in the Holy Spirit resulted in a steady growth in the number of
families as they spread the love of Christ. His vision for the community was to allow
parishioners to become ministers of the Body of Christ, keeping the church welcoming and
family-friendly. Father Dan also touched many parishioners through the sacrament of baptism,
First Communion, confirmation, reconciliation, marriages and the sacrament of anointing.
Father Dan was especially proud of the men that became permanent deacons and priests due to
his mentoring.
Father Dan's plans for the parish were also especially important. During his tenure, many
construction projects helped expand St. Joseph's:
• 1983 new food bank and expansions & 1985 new rectory
• 1988 new school, gym and expansions & 1989 new parish center
• 1999 new main church & 2004 new Cody Enrichment Center
• 2007 new Divine Mercy House
Father Dan loved big family reunions and was a very social person. He enjoyed catching up
with all his nieces and nephews as they grew older and their lives developed. He would often
make trips home to Ireland to officiate at his sibling's weddings. Both Father Dan and Father
Tom continued the tradition of officiating at family weddings by marrying their many nieces
and nephews, both in Ireland and even one in St. Joseph's.
Father Dan was a vibrant and colorful character with a big personality, which is why it is hard to
believe that he is gone. He will reunite with his parents, sisters, nephew, and other family/
friends in Heaven. Perhaps eyeing some construction or building work that needs to be done!
Friday, September 24, 2021
8:00 AM - Mass of Transferral [liturgy guide]
The Most Rev. Thanh Nguyen, Auxiliary Bishop of Orange, Presiding
Following Mass to 12:00 Noon - Public Viewing and Prayer
12:00 Noon - Daily Mass
(Church closed 1:30-5:30)
5:30 PM - Public viewing resumes
6:30 PM - Vigil Service (livestreamed) [liturgy guide]
Following service through the night - Public Viewing and Prayer

Saturday, September 25, 2021
Public Viewing and Prayer continues until 8:00 AM
(note: no 8 AM Daily Mass on Saturday)
9:00 - Mass of Christian Burial (livestreamed) [liturgy guide]
The Most Rev. Felipe Estevez, Bishop of Saint Augustine, Presiding
10:30 - Committal at St. Joseph's Cemetery
11:00 - Reception at Cody Enrichment Center