Have you ever been to the Eucharistic Congress? There have been 7 since Bishop Felipe came
to our diocese.
The first year was held at St. Joseph's in 2012. Were you there? Did you get a
seat? If you were, you would have noticed that it was so crowded that the bishop needed a
larger space. As a result, he moved it the Prime Osborn Convention Center in 2013 and
forward. Well, I have been to all of them and I would like to share my experiences with you,
and I hope you will join me this coming year.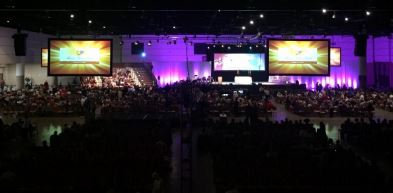 The Congress is held on Friday evening and Saturday during the day. The Eucharistic Congress
has two sacraments – the Eucharist on Saturday morning and Confession on both days. There is
Adoration throughout the Congress, except during Mass and during processions. Jesus moves
around all day to visit everyone in their tracks! There are several tracks – kids, teens, young
adults, English speaking adults, Spanish speaking adults, and childcare.
On Friday evening, doors open at 5:30. At 6:30, there is a keynote speaker. Then at 7:30, there
is a Living Stations of the Cross performed by Comunità Cenacolo and it is very touching. It is
moving to see groups from different parishes carry a big wooden cross throughout the
Exhibition Hall. Everyone sings "Were You There" between each station. I always feel like I'm
truly there at Jesus' passion. There is Adoration Friday night, and you can stay with Jesus all
night! The Vendor hall opens Friday at 5:30 and has many Catholic booths with interesting and
inspirational items. The first thing I do when I arrive is update my Eucharistic Congress t-shirt
collection. I arrive wearing last year's shirt and I put the new shirt on top. I enjoy seeing and
talking with priests and people from other parishes that attend each year.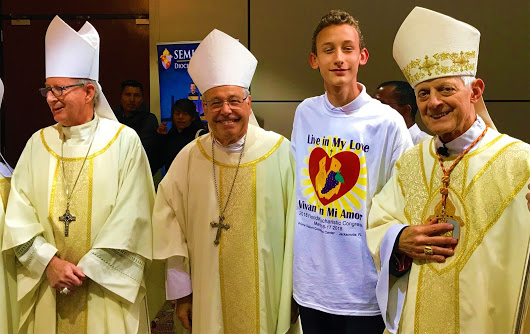 Photo: Bishop John Noonan | Bishop Felipe J. Estévez | Me | Donald Cardinal Wuerl
On Saturday morning at 8:00, there is Banner Procession. All parishes of the diocese process
with their banners behind Jesus in the monstrance. It starts outside the Convention Center and
goes around the perimeter of the building, then inside to the Exhibition Hall. The procession is
beautiful, and it makes me feel excited and pumped up for the day! Our large parish usually
has a small group in the procession, so I hope more can be part of this experience.
At 9:00, there is a keynote speaker followed by Mass at 10:00, which is celebrated by cardinals,
bishops, and all priests of the diocese. Father Thanh (Now Bishop Thanh) was there. All the
seminarians are also there to assist with Mass. The Mass is awesome because it so amazing to
see everyone there! I was so exhilarated to see an archbishop celebrate Mass in 2013, and a
cardinal the following years. After Mass is a lunch break. There is a variety of food located
throughout the Convention Center. Following lunch are individual tracks with great speakers.
At 4:30, there is the closing celebration which includes benediction. Sadly, it ends, and you will
wish next year's Eucharistic Congress is tomorrow!
I go to the Eucharistic Congress every year because I love Jesus and I want to see Him, be closer
to Him, and learn about Him. I also really enjoy meeting the cardinals, bishops, speakers, and
seeing all the priests and seminarians.
Experiencing the Eucharistic Congress is a piece of Heaven.
For more info and schedules, visit: flec.dosafl.com
The Congress is fun and free to everyone.
Our store will be there in the Vendor hall.
I will be at the next Eucharistic Congress, Jesus will be there, so will you be there too?
 ~Andrew Salvatore

Andrew Salvatore (Queen of Angels Catholic Store Employee)
P.S. Location of the Florida Eucharistic Congress - Prime F. Osborn III Convention Center