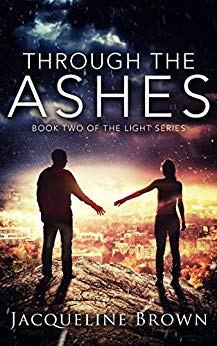 Book Review, by Tara Coggin
I just finished the second book in Jacqueline Brown's The Light series, and could not put it down! Through the Ashes picks up where her first book left off, in the relative safety of the family homestead.
For the first few chapters, I thought the author would keep everyone on the farm, where they have a steady supply of food, water, and the comfort of each other. This is not to be the case, and soon Bria and her friends leave on a poorly-thought-out dangerous journey to find other family members.  Jonah comes along; intense moments arise between Jonah and Bria, who for all her sulking around the barn and spying, still can't seem to make a move. Bria is not the same person she was when the light first happened. She has become self-sufficient, and despite the circumstances seems to be thriving in the new world. Unfortunately, her past follows her everywhere and old insecurities thwart Jonah's attempts to connect.
Once the group leaves the farm, the fallout from the Electric Magnetic Pulse (EMP) is seen in full scope. Seemingly irreparable damage has been done to the country; millions are dead, and those who survived are left defenseless and starving. In Brown's narrative full of Catholic symbolism, the fight between good and evil is a significant theme.
For Bria, everything comes to a head in the last few chapters. Her past collides with what, or who, she hopes is her future. Brown does not disappoint in the final resolution of these characters; Bria is not the only one with a less than desirable past. ONTO BOOK THREE: FROM THE SHADOWS!