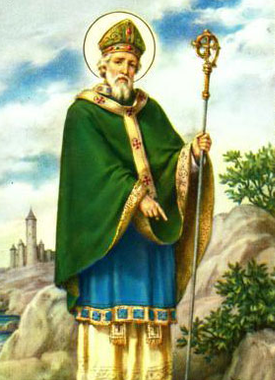 Happy St. Patrick's day! This feast day is a mix of secular and religious, stemming from both the Church and the culture of Ireland, both in the country and through the Irish-American immigrants. As time has progressed, the secular side of the holiday has become the most prevalent, but there are still many surprising facts on the religious and historical side of things that make the feast day and the holiday all the more rich and beautiful. Take a look at these fun facts and enrich your understanding of this religious, historical, and festive occasion!

1) While today green is the official color of St. Patrick's Day, the holiday was actually originally associated with the color blue! The shift to green occurred because of the nickname given to Ireland - The Emerald Isle - and the historical and political context of the color green as part of the Irish flag.

2) The shamrock was considered sacred even before St. Patrick used it as an example of the nature of the Trinity. The ancient Celts considered the shamrock to be a good omen of the arrival of spring.

3) In Chicago, the Plumbers Local 110 Union dyes the Chicago river kelly green! This statewide celebration of St. Patrick's day lasts about five hours and is possibly one of the most interesting traditions in America regarding the celebration of this Irish saint.

4) Despite the universal association of alcohol with St. Patrick's Day, the feast was actually a dry holiday all the way up until the 1970's!  Because it was a national holiday, pubs in Ireland closed all day, and this tradition remained for quite a long time until the strictly religious and solemn nature of the feast day became more festive in the secular sense.

5) While there are many St. Patrick's day parades, one of the most lauded is actually the shortest! This parade takes place in Dripsy, Ireland, and is only 100 yards! It spans between the only two bars in the town, making it a perfect route for those inclined to imbibe for festivity's sake.

I hope you enjoyed these St. Patrick's Day fun facts! Have a blessed and safe feast day! St. Patrick, pray for us!