Posted on
By Alyssa Rangel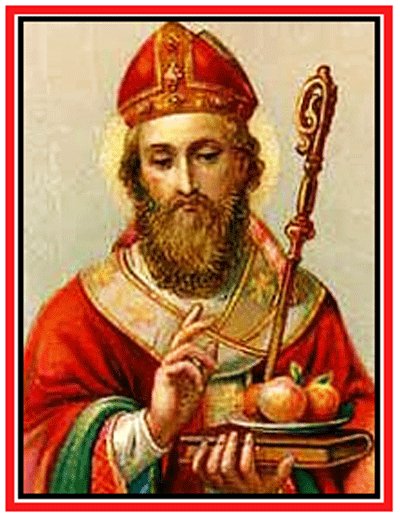 A little history regarding St. Nicholas Bishop of Myra and the traditional celebration of his feast day.
The Feast of St. Nicholas is celebrated by Christians everywhere to honor the glorious Bishop of Myra who lived only 300 years after the establishment of the new Law of Grace. St. Nicholas imitated Christ so closely in his own life that His Excellency became known as the wonder worker. He was gentle to the poor and ferocious to the wolves in sheep's clothing. He took part in the Council of Nicea to defend the Divinity of Christ against the Arian heresy, to the point that he actually slapped Arius for his blasphemous prattling. St. Nicholas saved men from shipwreck, people from famine, donated his inheritance to the poor, and rescued children from death after the fact that they were chopped to pieces.
His exceptional generosity and piety earned him the celebrated image of Santa Claus. During his ministry as a Bishop he, in secret and at night, threw bags of money and goods through open windows or down the chimneys to offer help to the poor. This includes the famous case of secretly donating dowry for marriage to three sisters considering prostitution.
Traditionally the Feast of St. Nick is celebrated on December 6, by leaving one's shoes out the previous night for St. Nick to fill. Your parents may remember having their shoes filled with peanuts and oranges. In Germany, St. Nicholas arrives on a boat from the sea with his helper Krampus, to reward the good while Krampus punishes the naughty. The name Krampus comes from "Krampen," the old German word for claw (Kralle in modern German). He is a horned, anthropomorphic figure who punishes bad children during the Christmas season. He is generally a towering, menancing hairy creature with a very long tongue, a goat's head, horns, and cloven hooves.
Drinking With Saint Nick: Christmas Cocktails For Sinners and Saints by Michael Foley https://www.qoa.life/copy-of-drinking-with-the-saints.html  The Legend of Saint Nicholas by Anselm Grun https://www.qoa.life/the-legend-of-saint-nicholas.html as well as the website: The German Way & More: Language and Culture in Austria, Germany and Switzerland, were used to write this blog script.