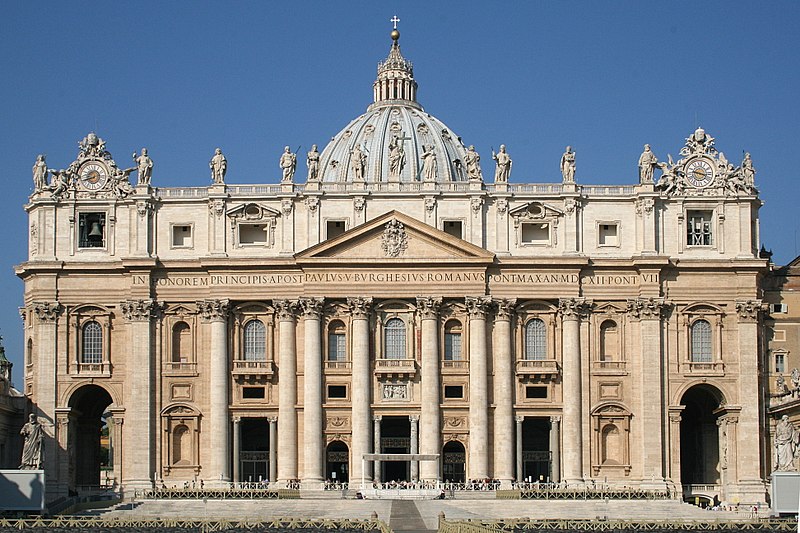 There are only five countries in the world where abortion is illegal in all circumstances: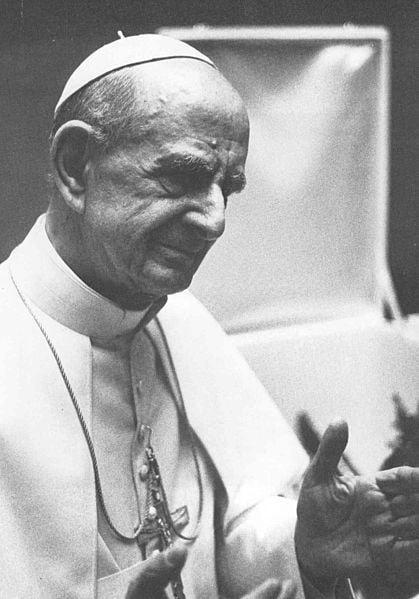 50th. Anniversary of Humanae Vitae!
25 July 1968 - 25 July 2018
Humanae Vitae (Of Human Life) is an encyclical written by Pope Paul VI and dated 25 July 1968. The text was issued at a Vatican press conference on 29 July.
Vatican City is its own Country!
Vatican City, officially the Vatican City State or the State of Vatican City, is an independent state located within the city of Rome. With an area of 110 acres, and a population of about 1,000, it is the smallest state in the world by both area and population. However, formally it is not sovereign, with sovereignty being held by the Holy See.
It is an ecclesiastical or sacerdotal-monarchical state (a type of theocracy) ruled by the pope who is the bishop of Rome and head of the Roman Catholic Church. The highest state functionaries are all Catholic clergy of various national origins. Since the return of the popes from Avignon in 1377, they have generally resided at the Apostolic Palace within what is now Vatican City, although at times residing instead in the Quirinal Palace in Rome or elsewhere.
The Vatican City is distinct from the Holy See which dates back to early Christianity and is the main episcopal see of 1.2 billion Latin and Eastern Catholic adherents around the globe. The independent city-state, on the other hand, came into existence in 1929 by the Lateran Treaty between the Holy See and Italy, which spoke of it as a new creation, not as a vestige of the much larger Papal States (756–1870), which had previously encompassed much of central Italy. According to the terms of the treaty, the Holy See has "full ownership, exclusive dominion, and sovereign authority and jurisdiction" over the city-state.
Within the Vatican City are religious and cultural sites such as St. Peter's Basilica, the Sistine Chapel and the Vatican Museums. They feature some of the world's most famous paintings and sculptures. The unique economy of Vatican City is supported financially by the sale of postage stamps and tourist mementos, fees for admission to museums, and the sale of publications.
Source is from Wikipedia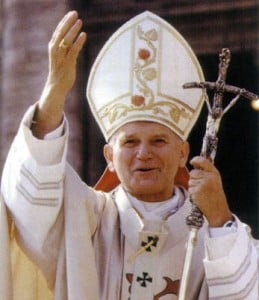 St. John Paul II's Feast Day is on October 22.
Pope John Paul II (May 18, 1920 – April 2, 2005) served as Pope and sovereign of the Vatican City State from 1978 to 2005. He is called Saint John Paul the Great by some Catholics.
He was elected by the second Papal conclave of 1978, which was called after Pope John Paul I, who had been elected in August to succeed Pope Paul VI, died after thirty-three days. Cardinal Wojtyła was elected on the third day of the conclave and adopted his predecessor's name in tribute to him. John Paul II is recognized as helping to end Communist rule in his native Poland and eventually all of Europe.
He was one of the most traveled world leaders in history, visiting 129 countries during his pontificate. As part of his special emphasis on the universal call to holiness, he beatified 1,340 people and canonized 483 saints, more than the combined tally of his predecessors during the preceding five centuries. By the time of his death, he had named most of the College of Cardinals, consecrated or co-consecrated a large number of the world's bishops, and ordained many priests. A key goal of John Paul's papacy was to transform and reposition the Catholic Church. His wish was "to place his Church at the heart of a new religious alliance that would bring together Jews, Muslims and Christians in a great religious armada".
John Paul II was the second longest-serving pope in modern history after Pope Pius IX, who served for nearly 32 years from 1846 to 1878. Born in Poland, John Paul II was the first non-Italian pope since the Dutch Pope Adrian VI, who served from 1522 to 1523. John Paul II's cause for canonization commenced in 2005 one month after his death with the traditional five-year waiting period waived. On 19 December 2009, John Paul II was proclaimed Venerable by his successor Pope Benedict XVI and was beatified on 1 May 2011 (Divine Mercy Sunday) after the Congregation for the Causes of Saints attributed one miracle to his intercession, the healing of a French nun from Parkinson's disease. A second miracle attributed to John Paul II's intercession was approved on 2 July 2013, and confirmed by Pope Francis two days later (two miracles must be attributed to a person's intercession to be declared a saint). John Paul II was canonized on 27 April 2014 (again Divine Mercy Sunday), together with Pope John XXIII. On 11 September 2014, Pope Francis added these two optional memorials to the worldwide General Roman Calendar of saints, in response to worldwide requests. It is traditional to celebrate saints' feast days on the anniversary of their deaths, but that of John Paul II (22 October) is celebrated on the anniversary of his papal inauguration.

St. John Paul II and the rosary
                               
| | | |
| --- | --- | --- |
|   | |   |
                                           APOSTOLIC LETTER
                     ROSARIUM VIRGINIS MARIAE
                                      OF THE SUPREME PONTIFF
                                             JOHN PAUL II
                                     TO THE BISHOPS, CLERGY
                                             AND FAITHFUL
                                   ON THE MOST HOLY ROSARY
                                        See Letter - Click Here
                                        See/Download as PDF

Source is from Wikipedia and Vatican.va.
More facts Coming out soon near Newsletter send out date.