Did You Know that St. John Paul II visited 129 countries during his time as pope!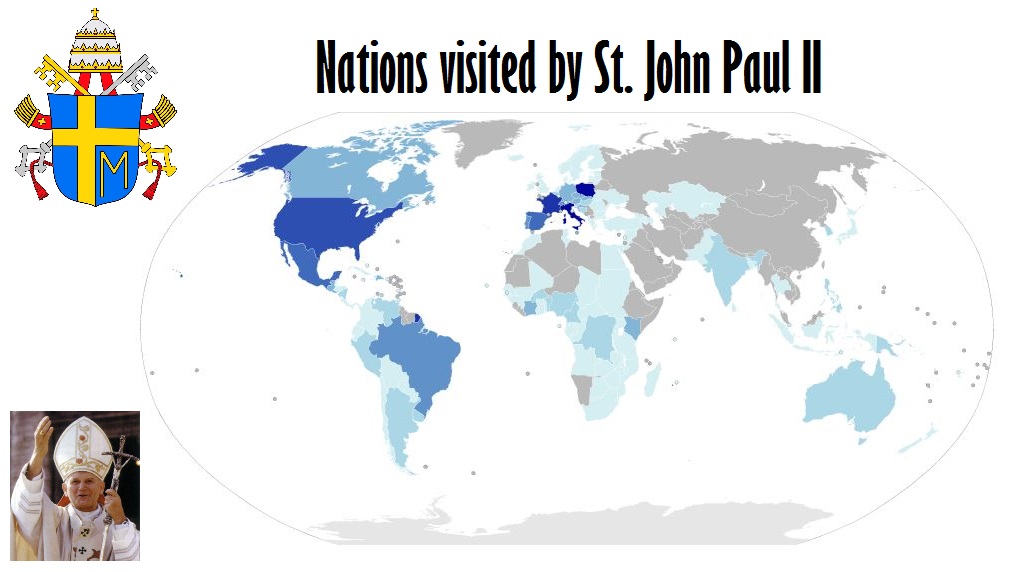 Pope John Paul II traveled to more than 129 different countries, logging more than 750,000 frequent flyer miles, which is about three times the distance to the moon.
Countries visited
In addition, John Paul II made 146 pastoral visits to Italy.
List of pastoral visits of Pope John Paul II
Voyage
Dates
Nations visited
Places visited
Information
1
25– 26 January 1979
 Dominican Republic
Santo Domingo, Santiago de los Caballeros
 
26 January–1 February 1979
 Mexico
México, Oaxaca de Juárez, Guadalajara, Monterrey
Attended the Third General Conference of the Latin American Bishops held in Puebla
1 February 1979
 The Bahamas
Nassau
Technical Stopover
2
2–10 June 1979
 Poland
Warsaw, Gniezno, Częstochowa, Kraków, Kalwaria Zebrzydowska, Wadowice, Brzezinka, Nowy Targ
Commemoration of the 900th Anniversary of the death of St. Stanislaus and the completion of the Diocesan Synod in Kraków
3
29 September–1 October 1979
 Ireland
Dublin, Drogheda, Galway, Knock, Limerick, Maynooth
Centenary of the Knock apparitions.
1–8 October 1979
 United States
Boston, New York City, Philadelphia, Des Moines, Chicago, Washington, D.C.
Address to the United Nations General Assembly (October 2).
4
28–30 November 1979
 Turkey
Istanbul, Izmir, Ankara

Met with Patriarch Demetrios I of Constantinople and Patriarch Shenork I Kaloustian of Constantinople

5 - 104

Q:

Where does the pope live?

A:

  Vatican City

Full List of pastoral visits of Pope John Paul II  See/Download as PDF

Source is from Wikipedia and Fact Retriever.