Faith Life Family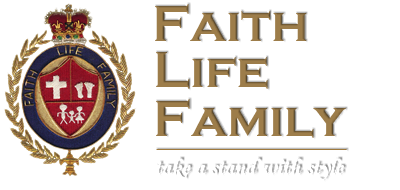 Accessories & Clothing with Crests – Stylish yet silent statements that stand up for Faith, Life & Traditional Marriage/Family.
The FAITH LIFE FAMILY crest has:
The Red Crown of Martyrdom (topped with a golden cross. The white pearls and symbols on the shield stand for purity).
The Red Shield showing a willingness to fight the good fight for Christ and His teachings, defending Faith (the Cross), Life (the Baby Feet) and Traditional Marriage/Family (the Family).
The blue circle which stands for Fortitude.
The Fleur de Lis for Mary the Mother of God.
Gold that stands for Divinity.